Therapists in Oklahoma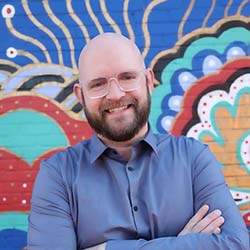 Kenneth Ferguson
Oklahoma City, Oklahoma
Kenneth Ferguson
MS in Marriage and Family Therapy, Oklahoma Baptist University
My goal is to facilitate a safe, non-judgmental space for you to explore your experiences, values, beliefs, identity, and relationships, so you can identify and work towards your preferred way of being. This often involves deconstruction of various social ideas and messages, as well as processing of the experiences and feelings that are a result of these dominant narratives of our society. Clinically, I make use of Narrative, Experiential, and Emotion Focused techniques during therapy.
Oklahoma City, Oklahoma
Contact Me
Website
Contact
By Phone:
By Email:
Call and request an initial appointment by phone or email. Once you get to your appointment, explain your symptoms and what's going on in your life.
Learn more about talk therapy.
Don't know what to say?
"Hi, I found your website through HeadsUpGuys. I've been dealing with a lot of stress recently and am looking for a therapist to consult with."
"I'm wondering if you are taking new clients? I'm looking for someone to work with to help me get through a rough patch."
Back to our Therapist Directory.
---
For more information on talk therapy, including more ways to find a therapist, virtual/online therapy options, how to make the most of therapy, and how to know if it is working, see: