Set realistic goals
The key to effective goal setting is to establish goals that are clear, concrete, manageable, and have a relatively short-term time frame.  Of course, you can have a long-term goal of overcoming depression, but you need to lay out the steps of how you're going to get there – these are your short-term goals. Don't try to fix everything overnight – focus on only a few key areas each month.  This helps lock into place new, healthy habits and patterns.
---
Log your activity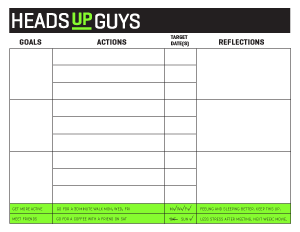 Once you've set your goals and laid out how you are going to tackle them, it's important to log your activity.  This is as much about keeping yourself honest regarding whether you are actually putting in the effort to meet your goals, as it is about tracking your progress.
Keep in mind that patience and persistence are necessary, as it can take a few weeks before you see results.
Get started with our Goal Setting and Logging Sheet.